Overview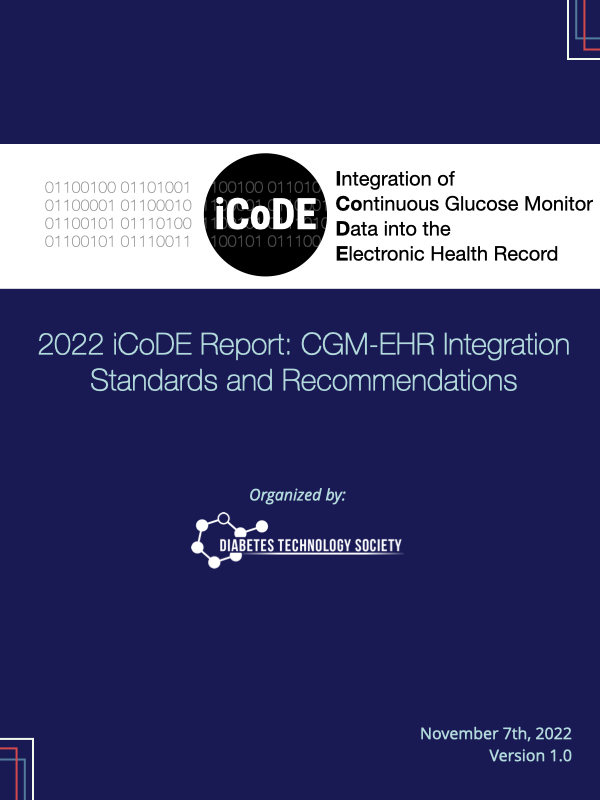 The Integration of Continuous Glucose Monitoring Data into the Electronic Health Record (iCoDE) Project is a consortium whose purpose is to facilitate efficient uploading and integration of continuous glucose monitor (CGM) data into the Electronic Health Record (EHR). The two goals of the iCoDE project are to 1) develop technical specifications to integrate CGM data into the EHR and 2) develop workflows and guidelines to facilitate data integration efforts.
Over 130 individuals from more than 60 organizations representing industry, academia, government agencies, clinicians, and patients participated in the year-long project. The result of this work is the 2022 iCoDE Report: CGM-EHR Integration Standards and Recommendations.
This report is intended to be a comprehensive yet practical guide for any organization who would like to implement a CGM-EHR integration. It is written to be generalizable to most healthcare settings, which necessitates writing at a level that omits some details. This report is ideal for clinical champions, administrators, IT leaders, and project managers directly involved in integration efforts. It contains significant technical detail, but is not intended to be a stand-alone technical guide; local expertise and collaboration with third parties (CGM manufacturers, aggregators, integrators) will still be required. The document is organized into the following sections:
Part 1 describes the genesis, organization, and process of iCoDE, as well as key concepts and definitions used through the report.
Part 2 contains detailed technical information about data, data structure, data models, ontologies interoperability, account linkage, and cybersecurity.
Part 3 discusses a number of practical implementation considerations, including clinical workflows, team compositions, patient experience, EHR data displays, and integration project management.
Part 4 is a template Project Implementation Guide that can be adapted by any HCO ready to move forward with an CGM-EHR integration.
Part 5 is a list of formal recommendations adopted by the iCoDE steering committee.
The Appendix contains references, resources, full list of iCoDE participants, and funding information.
Attributions
The 2022 iCoDE Report: CGM-EHR Integration Standards and Recommendations was prepared by Prepared by:
Juan C. Espinoza, David C. Klonoff, Alaina P. Vidmar, Maurice Tut, Sarah Corathers, Randi Seigel, Andrea M. Yeung, Nicole Y. Xu, Payal Shah, Mahsa Babaei, Jingtong Huang, Kevin T. Nguyen, Julian Goldman, Shahid Shah.
Suggested citation in AMA format:
Espinoza J, Klonoff D, Vidmar A, et al. 2022 iCoDE Report: CGM-EHR Integration Standards and Recommendations. Diabetes Technology Society. https://www.diabetestechnology.org/icode/. Published November 7th, 2022. Accessed [date].
Downloads
You can download the 2022 iCoDE Report: CGM-EHR Integration Standards and Recommendations for free here.
Current version: 1.0, released November 7th, 2022
Previous version: n/a
Other Resources
Stand-alone Project Implementation Guide (coming soon)
iCoDE CGM LOINC Terms (coming soon)
Feedback, Comments, and Updates
Found spelling, formatting, factual errors, or other corrections? Suggestions to improve the writing and concepts? Let us know here.
Suggestions for updates or expansions? Let us know here.
Want to join the iCoDE consortium? Sign-up here.
Is your institution planning on implementing CGM-EHR integration and you need guidance? Submit your questions here.
iCoDE GitHub coming soon
iCoDE and iCoDE-related publications
iCoDE News
"The Biggest News in Diabetes Technology and Drugs: Highlights from ADA 2022." DiaTribe, 6 June, 2022. (link)
"American Diabetes Association 82nd Scientific Sessions." Close Concerns, 7 June, 2022. (link)
"Hospital Diabetes Meeting 2022." Close Concerns, 2 April, 2022. (link)
Funding
The iCoDE project was supported by grants to the Diabetes Technology Society from the following organizations (in alphabetical order):
Abbott Diabetes Care
AI Health
Ascensia
Bigfoot Biomedical
Dexcom
Diabeloop
Eli Lilly
Estenda Solutions, Inc.
Glytec
LifeScan
Medtronic
Rockley Photonics
Sanofi
Teladoc Health
Terumo
TransformativeMed
WellDoc
© 2022, Diabetes Technology Society. This work is licensed under the Creative Commons Attribution-NonCommercial-ShareAlike 4.0 International License. To view a copy of this license, visit http://creativecommons.org/licenses/by-nc-sa/4.0/ or send a letter to Creative Commons, PO Box 1866, Mountain View, CA 94042, USA.