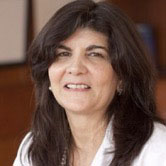 Jane Jeffrie Seley, DNP, MPH, MSN, GNP, BC-ADM, CDE, CDTC, FAAN
New York Presbyterian / Weill Cornell Medicine, New York, New York
Dr. Seley is a Diabetes Nurse Practitioner and Certified Diabetes Educator in the Division of Endocrinology, Diabetes & Metabolism at NewYork-Presbyterian/ Weill Cornell Medicine in New York City. She is a 2016-2018 director on the board of the American Association of Diabetes Educators (AADE) and has served on numerous committees for AADE and the American Diabetes Association (ADA). Jane is contributing editor and column coordinator of the Diabetes Under Control column in the American Journal of Nursing, co-author of the Endocrine Society Guidelines for the management of hyperglycemia in the non-critical care setting and guest editor of the 2014 inpatient management focused issue of Diabetes Spectrum. She is an active speaker and author committed to patient and professional diabetes education and the advancement of diabetes technology as a tool to assist people living with diabetes and the clinicians that care for them.