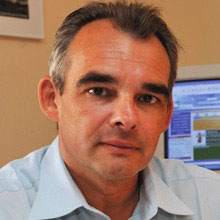 Eric Renard, MD, PhD
Montpellier University Hospital, Montpellier, France
Eric Renard has a wide range of relevant experience in his career, including, a Doctorate in Medicine (MD), Montpellier Medical School, 1987, Specialist in Endocrinology & Metabolic Diseases, Montpellier Medical School, 1988, a National Diploma of Specialist in Nephrology, 1989, a Diploma of Advanced Studies in Food Science & Nutrition, Montpellier I University, 1989, a Research Fellowship (Arthur Sachs Scholarship), Joslin Diabetes Center, Harvard Medical School, Boston, MA, USA, 1992, a PhD in Biochemistry & Molecular Biology, Montpellier I University, 1995, Ability to Research Direction, Montpellier I University, 1996. He holds a Chair of Professor of Endocrinology, Diabetes & Metabolism at Montpellier Medical School, Montpellier I University, since 1999, and the coordination of the Department of Endocrinology, Diabetes and Nutrition, Lapeyronie University Hospital, Montpellier, since 2010. Eric Renard is also Medical Director of Clinical Research at Montpellier University Hospital since November 2008 and Head of the INSERM Clinical Research Center at Montpellier University Hospital since January 2010. He leads a research team focusing on 'Determinants and correction of the loss of insulin secretion in diabetes' at the Institute of Functional Genomics, UMR CNRS 5203/INSERM U661/ Montpellier I & II Universities, Montpellier, since 2012.

Eric Renard's main field of clinical research is focused on intensive insulin therapy aiming at physiological insulin delivery. He devoted a large part of his work on developing insulin pump therapy, especially investigating the use of intra-peritoneal insulin delivery and implantable pumps. During these last years, he extended his research activity toward tools for continuous blood glucose monitoring. In years 2000-2007, he investigated in diabetic humans the first model of fully implantable artificial endocrine pancreas combining IP insulin delivery and IV glucose sensing. His recent research includes participation in European FP7 Projects 'DIAdvisor', 'Bringing Artificial Pancreas at home', BIOSID and in JDRF-sponsored Artificial Pancreas Project. Eric Renard authored more than 120 papers in peer-reviewed journals.