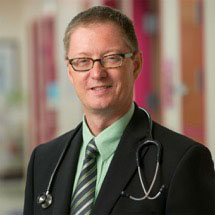 Mark Clements, MD, PhD
Children's Mercy Hospital, Kansas City, Missouri

Dr. Mark Clements is a Pediatric Endocrinologist specializing in the care of children and families with type 1 and type 2 diabetes. He is also the Director of Endocrine/Diabetes clinical research and the Medical Director for the Pediatric Clinical Research Unit at Children's Mercy Hospital. He holds the title of Associate Professor of Pediatric Endocrinology at the University of Missouri-Kansas City.
Dr. Clements earned his Bachelor of Science degree in Biology and Chemistry (1993) at Butler University, Indianapolis, IN. Following, Dr. Clements earned his Medical Degree (2003) and PhD in Developmental Neuroscience (2003) at Washington University, St. Louis, MO. Previous training in the Medical Scientist Training Program at Washington University School of Medicine provided a strong foundation in basic science research. Dr Clements trained as a clinical researcher at Children's Mercy Hospital, where he has applied his skills to clinical trials of new diabetes treatments, clinical trials of treatments designed to prevent type 1 diabetes, intervention development research, risk prediction research in type 1 diabetes. He has a particular interest in the application of new technologies that can improve blood glucose data sharing and communication between patient and provider, so that better diabetes control can be achieved.